We accept Visa and Mastercard!
Credit card payment is processed using a secure channel, which is provided by one of the leading Georgian banks - TBC Bank. Transaction is made through SSL protocol. There are no extra commissions charged.
In your booking order form choose the payment method "TBC Bank Visa / Mastercard"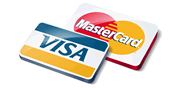 and you will be taken to the bank's secure interface, where you can enter your card information:
Card number, valid until, CVC2 code (last 3 digits on the back side of the card)